FEATURES
Show how you feel with VMoods! Create your own unique mood using pictures and music.
Send Virtual Hugs (VUG)!
VUGs use pictures, videos, music, sounds, and user input to create an interactive experience for someone special!
App Pal Vuggie:
Reaching out can be scary sometimes. Let Vuggie help you break the ice, make connections, have fun, and grow closer together.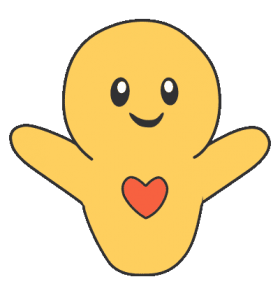 VUG Social is currently in Limited Release for US and Canada because we are in the process of adding additional features to the App. Please join us during the limited release phase to enjoy the App early, and be the first to try out new features. You would also be an important part of making VUG Social an even better place to hang out. Features in Development include:
Many More VUGS
Vuggie Relationship System
Community Games and Sharing
Gifts and Prizes
Many More!
A referral code will be needed ahead of time to signup as a new user. To get a referral code, CLICK HERE (Coming soon). Share the code with your friends and family circles as they will need to use it during the setup process. Thank you very much for your interest!
OUR MISSION
Feelings and emotions define the core of our being. Sharing our genuine feelings with others and supporting those of our friends and family helps us feel connected and happy. In today's world, that's hard to do. Hunger for real social connection and validation can lead us to feel lonely. It can be a thrill to get likes and attention from strangers on the internet. But everyone needs a real friend they can rely on to share.
Our mission with VUG is to create a fun and safe place where family and friends can feel comfortable sharing and validating feelings and build genuine and supportive relationships. We want to create a light-hearted environment with lots of laughter that encourages conversation, hanging out, and let users share their feelings and build stronger relationships without really feeling conscious about it.
We want to bring genuine feelings and relationships into the digital world – starting witih VUG.